Music of the past serving needs of the present
Founded and directed by early keyboardist
Vivian Montgomery
and violinist
Julia McKenzie
, Eudaimonia brings together some of the Boston area's most creative performers in the historical performance field. As an artistic collective, we build upon shared ideals, ignited spirits, and a desire for healthy collaboration.
Eudaimonia's repertoire spans the mid-16th century through the middle of the 19th century and our programs center around vocal & orchestral works that speak to the mission of our partner organizations. The works of ​women composers are seamlessly blended into our
programming
.
"……Eudaimonia has burst on the scene with ... real artistry … completely delightful … great vitality."
​
​
​
​
​
—Boston Musical Intelligencer
---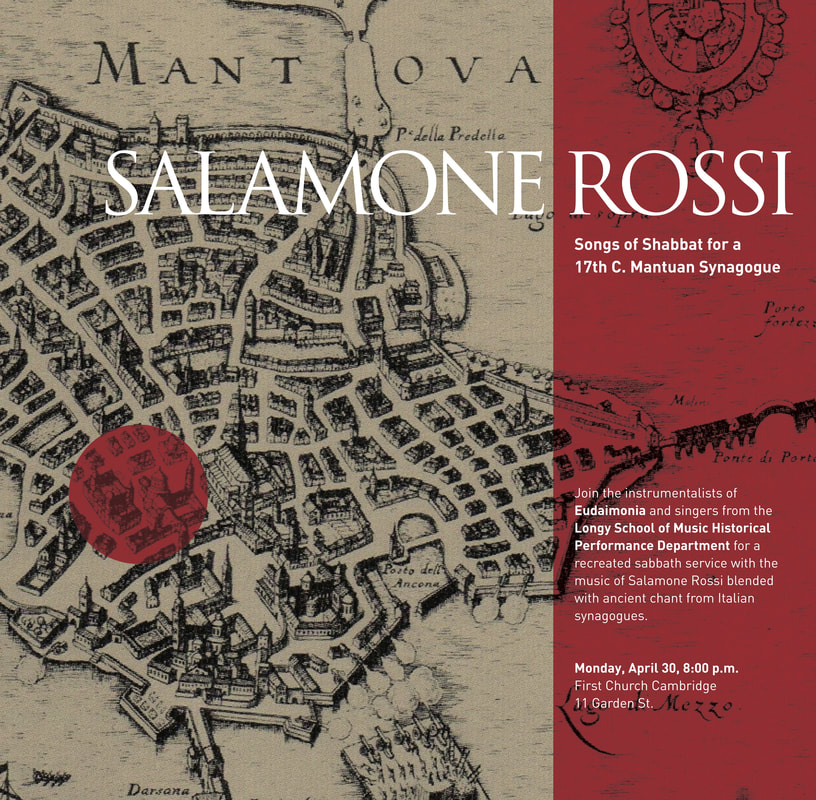 On Monday, April 30, 8:00 p.m. at First Church Cambridge, Eudaimonia presents the recreation of a 17th century Mantuan sabbath service with the music of Salamone Rossi blended with ancient chant from Roman synagogues. This concert, featuring a core of Boston's finest period instrumentalists from the ensemble, is a collaboration with the Longy School of Music's Historical Performance department, led by Eudaimonia's directors, harpsichordist Vivian Montgomery and violinist Julia McKenzie. In keeping with the ensemble's social action mission, the program will highlight the work of local humanitarian organizations that address issues of discrimination and marginalization in our immediate surroundings. Salamone Rossi himself faced those elements as a Jewish musician, living in the ghetto of Mantua but serving the court and struggling to be recognized amidst his Christian contemporaries. His elegant and expressive settings of Hebrew liturgy are a unique testament to the creative spirit rising above oppressive circumstances.
Admission for this
Artweek event
is
Pay What You Decide
, and contributions to our highlighted social action organizations are greatly encouraged. For further information:
information@eudaimonia-music.org
.
​
Instrumentalists will include violinists Julia McKenzie & Danilo Bonina, cornettist/lutenist Nathaniel Cox, bassist Andrew Arceci, conductor/keyboardist Vivian Montgomery, cellist Violeta Mura, and recorder player Jeffrey Stock. Singers include Catharine Cloutier, Marilyn, Caitlin Laird, Grant Yosenick, Carolyn Balkovetz, and René Minalga-Reault.
---
Twelve selections from our recent concert, Boundary Issues.
Click the menu icon at upper left to see the full list.
See below for more about this vibrant and varied program, supporting the METCO Scholarship Fund!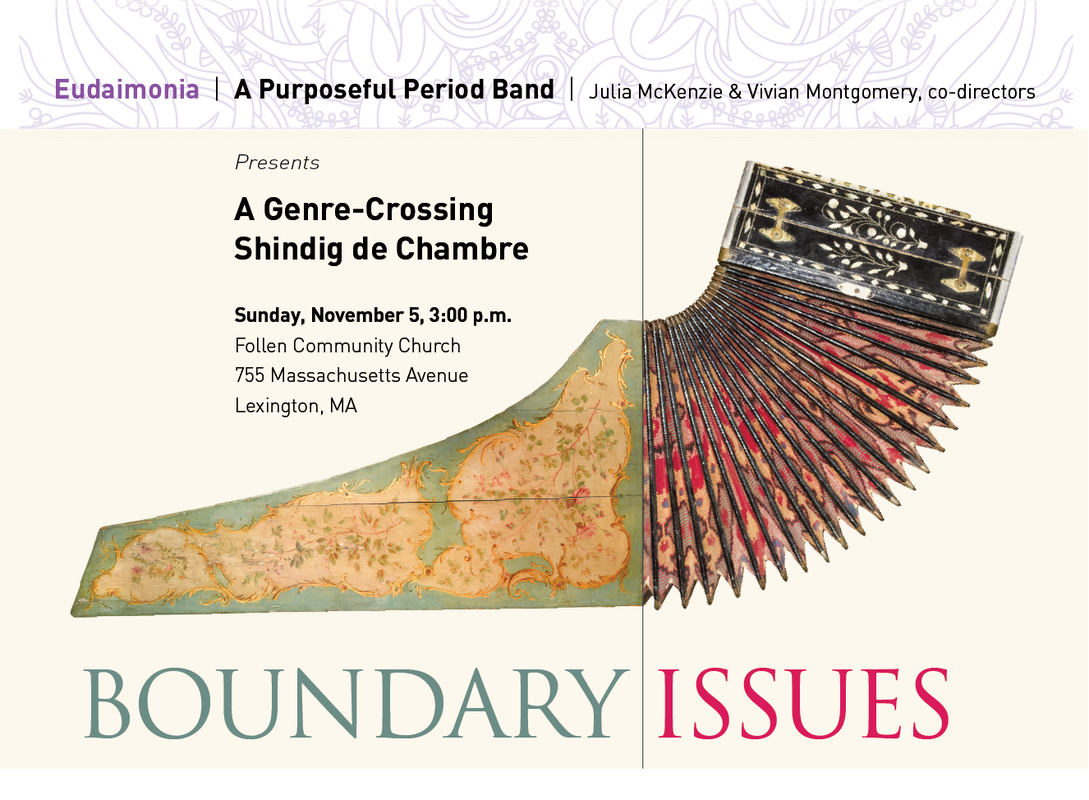 ---