THIS SEASON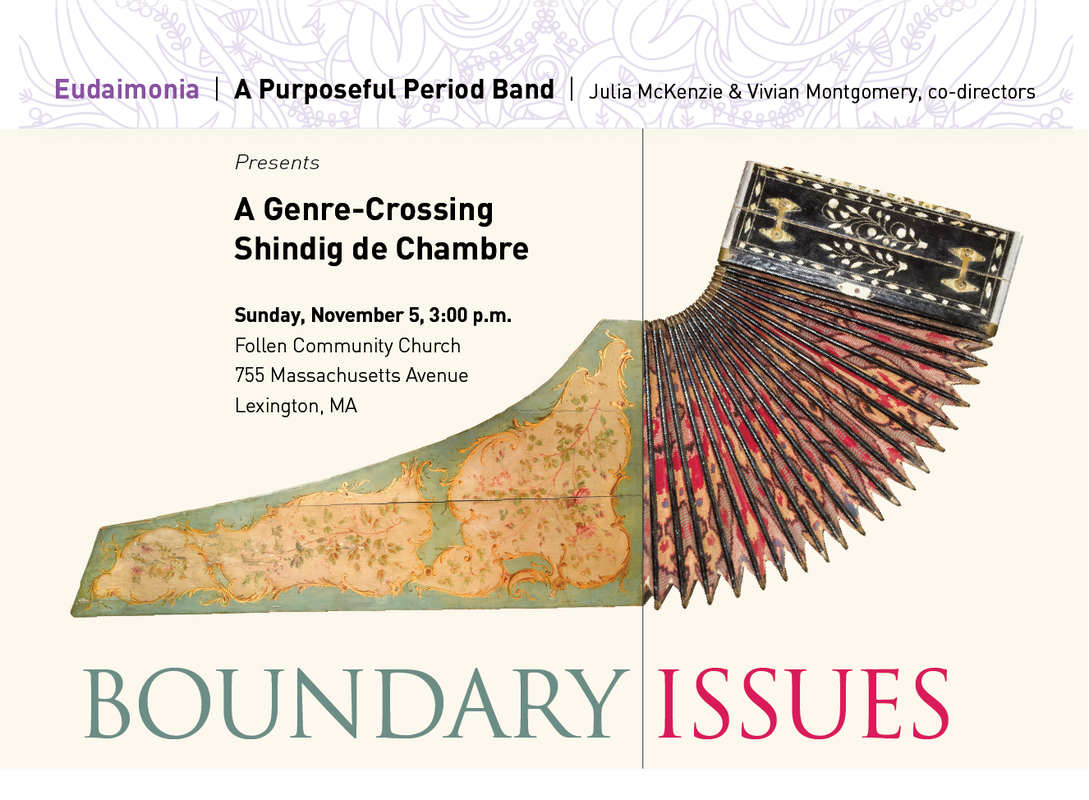 Twelve selections from Boundary Issues.
Click the menu icon at upper left to see the full list.

Boundary Issues
Eudaimonia's versatile female component pushed the boundaries in a passionate and unruly St. Cecilia's celebration. The audience was treated to an unusual array of repertoire, spanning Ladino songs, Italian baroque chalumeau arias, Stephane Grapelli, Purcell, Robbie Burns, Piazzolla, Handel, bluegrass á la John Morrison, swing, and new music for baroque flute.
This concert lifted up the work of
Follen Community Church's Social Justice Action Team
and the
METCO College Scholarship Fund of Lexington
.
Sunday, November 5, 2017 at 3 P.M.
Follen Church
755 Massachusetts Ave,
Lexington, MA
This playful performance excursion featured:
soprano
Pamela Murray
mezzo
Carrie Cheron
flutist
Na'ama Lion
period & jazz reeds blower
Diane Heffner
violinists
Julia McKenzie
&
Yi-Li Chang
violist
Elisabeth Westner
harpsichordist/accordionist
Vivian Montgomery
with special guest cellist
Claire Garabedian
.
Admission is Pay What You Decide following the program (tax-deductible), and contributions to our social action partner are greatly encouraged.
For further information: Vivian Montgomery
email: information@eudaimonia-music.org
phone: 617-223-1627
PAST PERFORMANCES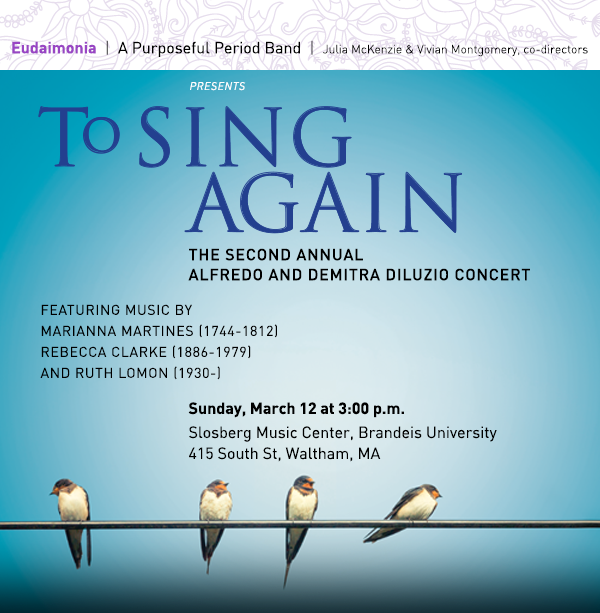 Two selections from To Sing Again.
Click the menu icon at upper left to see the full list.

​
To Sing Again: The Second Annual Alfredo and Dimitra Diluzio Concert
Featuring Music by:
Marianna von Martines (1744-1812)
Rebecca Clarke (1886-1979)
and Ruth Lomon (1930-)
Sunday, March 12, 2017 at 3 P.M.
Slosberg Music Center, Brandeis University
415 South Street, Waltham, MA
Presented by the Women and Music Mix of the Brandeis Women's Studies Research Center
A unique program bringing together vocal motets by a long-ignored Viennese prodigy, the dark intensity of Clarke's solo song, and the luminous sounds of the WSRC's most treasured composer.
Performed by
Eudaimonia, A Purposeful Period Band
Vivian Montgomery and Julia McKenzie, co-directors
Na'ama Lion & Adam Buttyan, baroque flute
Dana Maiben, violin
Lauren Nelson, viola
Colleen McGarry-Smith, cello
and
Kathryn Aaron soprano
Sarah Bob pianist
Carrie Cheron mezzo soprano
Brian Church baritone
Michael Merullo tenor
Alexander Nishibun tenor
Rhonda Rider cellist
Admission is Pay What You Decide
For further information:
email: lcurtis@brandeis.edu
voice-mail: 617-776-1809
wammix.wordpress.com
eudaimonia-music.org
---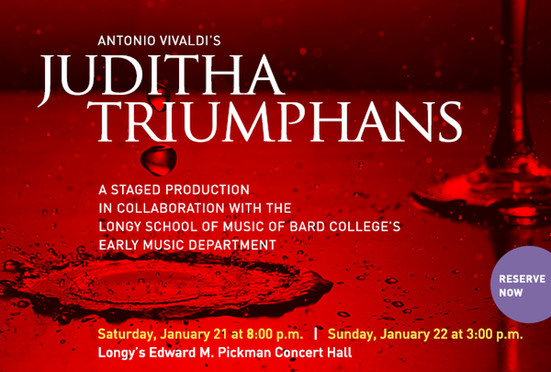 ---
Antonio Vivaldi's
Juditha Triumphans
(1716)
Saturday January 21, 2017 at 8:00 p.m. Sunday January 22, 2017 at 3:00 p.m.

Pickman Hall, The Longy School of Music of Bard College, 27 Garden Street, Cambridge
A staged production of this extraordinary oratorio in collaboration with the Longy School of Music of Bard College's Early Music Department.
Presented in partnership with social action organizations within our community:
​
Tunefoolery Music, The Muslim Justice League, Yad Chessed, Family Promise Metrowest,
and
Samaritans of Boston
.
Featuring:
Carrie Cheron
Dana Kephart
Carolyn Balkovetz
​Anastasia Black
Julian Cullen Budwey
Rachel Davies
Joshua Garvey
Cadence McAfee
René Rivers
Madeline Ross
Rachel Schachter
Marcus Schenk
with an extraordinary orchestra made up of Eudaimonia and student players, featuring chalumeau, viol consort, viola d'amore, oboes, trumpets, recorders, and theorbos.
vivaldi_juditha_press.docx
Download File
juditha_longy_release.docx
Download File
---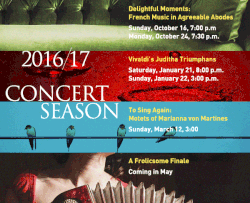 Delightful Moments: French Music in Agreeable Abodes
Chamber works of Jacquet de La Guerre, Marais, and Couperin, performed by soprano Pamela Murray, flutist Na'ama Lion, violinists Julia McKenzie & Lisa Brooke, gambist Carol Lewis, and harpsichordist Vivian Montgomery.

Sunday, October 16, 7:00 p.m
Home of Sheera Strick & Karen Kruskal in Brookline. Reservations required, seating limited
​
Monday, October 24, 7:30 p.m.
Home of Peter Sisk & Victoria Goodhart in Union Square, Somerville. Reservations required, seating limited
---


Six selections from Hope's Sweet Song.
Click the menu icon at upper left to see the full list.
Hope's Sweet Song was a program of stirring baroque and new music,
highlighting the work of organizations that support and shelter domestic abuse survivors.
Featuring:
Salve Regina
by Niccolo Porpora, sung by mezzo Carrie Cheron
Arias from Quemadmodum desiderat cervus by Marianne von Martines
Non sa che sia dolore
by J.S.
Bach, sung by soprano Pamela Murray
Concerto Comique
by Michel Corette
The Sick Rose by John Howell Morrison (world premiere),
setting poetry of William Blake, with chalumeau, flute, and strings.
Admission is Pay What You Decide (PWYD) following the program.
Contributions are tax-deductible, made directly to Jane Doe Inc. and to Eudaimonia.
United Parish is at
210 Harvard St, Brookline (Coolidge Corner).
This program is supported in part by a grant from Women's Philharmonic Advocacy.
Further information at
Eudaimonia-music.org
or e
mail
information@eudaimonia-music.org
---
Autumn's Grace A Concert in Partnership with Shelter Music Boston

Sunday, September 27,

3:30 p.m.

-

PLEASE NOTE TIME CHANGE!!!

Unitarian Universalist Church of Medford, 147 High Street, Medford, MA

The glory of early fall (the specter of the coming cold)

The security of a sheltering tree (the uncertainty of when its leaves will fall)

The solace of nature's beauty (the unsettling shadow of an approaching storm)

​

Eudaimonia captured the season's poetry through song and sinfonia from the 17th & 18th centuries, blended with bold musical elements of the present day. The lustrous voices of soprano Pamela Murray and mezzo soprano Carrie Cheron were joined by some of Boston's best period instrumentalists on a program that included:

Vivaldi's "Autumn" Concerto

with guest violin soloist Julie Leven

arranged by Julia McKenzie for Eudaimonia

The world premiere of John Howell Morrison's "September"

(poetry by Jennifer Michael Hecht)

with soprano Pamela Murray

mezzo soprano Carrie Cheron

An Artweek Boston event for 2015! See our calendar listing

here

.

A press release about this concert is available here:

http://conta.cc/1LCWeUu

It was a really wonderful debut! See a detailed and glowing review

here

.

---

Four selections from the program:
Click the menu icon at upper left to select from all videos.